The company was founded in 1996 by Kay Eagleson. We feature homemade Jelly, Jam & Syrup made with wild berries and fruits native to the upper Midwest region. Native berries are picked at the peak of perfection to insure the best flavors.

Kay's homemade quality Jams, Jellies & Syrups are hand stirred & made in small batches to assure high quality products. (Just like Grandma used to make.)You can pick your favorites from Crab Apple, Chokecherry, Wild Plum,Buffalo Berry and other flavors.

Berry Dakota features Jellies & Syrup which are made from pure fruit juice and the Jam Is made with the whole pieces of fruit. All are pure fruit or juice with no added apple or lemon juice. See the back of the brochure for all varieties

Jelly and Jam contain only 48 calories per tablespoon. On a tablespoon per tablespoon basis jam & jelly have half the calories of butter or margarine and contains 0 grams fat. A tablespoon of butter contains 102 calories, 12 grams of fat, 7 grams of saturated fat and 31 milligrams of cholesterol.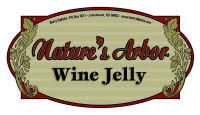 LIFE'S TOO SHORT TO EAT BORING JELLY

The fall of 2004 brought the introduction of North Dakota's newest food product Nature's Arbor Wine Jelly.

Producing the finest gourmet wine jelly takes the skills of wine experts and a gourmet chef. The best wine for wine jelly is prepared through a process that keeps and accentuates the wine's character.

Producing great wine jelly demands attention to every detail to assure that the wine jelly will be "faithful" to the parent wine. Each jar of Nature's Arbor wine jelly captures the unique and aromatic characteristic of eachindividual wine.

A fine wine jelly goes beyond the original bouquet of the wine to hold the wine's essence on the pallet for a moment longer. The result is an explosion of flavor that is often missed in drinking of the wine. Nature's Arbor Wine Jelly is the perfect gift for holidays, special occasions, corporate gifts, gourmet gifts, gifts for wine lovers, jelly lovers or food lovers in general!